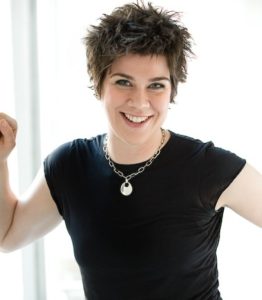 Stephanie Sterling was first introduced to Alternatives during the agency years when it was 'Alternatives Adolescent Counseling Center.' Having come highly recommended from New York University, where Stephanie was pursuing her MSW, she was given the opportunity to interview for a clinical internship during her first year and was subsequently offered the position; something unheard of at Alternatives. Historically, Alternatives had only considered second-year graduate students for clinical internship interviews in order to maintain its reputation of clinical excellence. Stephanie's spirit exuded the same type of excellence. She seemed to be the perfect fit for Alternatives and since, has become a full-fledged family member.
Stephanie's second internship, in addition to remaining at Alternatives, was at Summit Oaks Hospital where she worked on an inpatient substance abuse unit specialized for the LGBT population. After receiving her MSW from New York University, Stephanie became licensed in both New York and New Jersey and chose to work in a hospital setting in New York during the day and continued at Alternatives in the evening. Stephanie was hired as an Adolescent Specialist at St. Vincent's Hospital in the HIV/AIDS Outpatient Clinic. She worked with children and adolescents/young adults who either contracted the virus at birth or were newly diagnosed. Stephanie then moved on to pursue her long-time interest in Psychiatric Social Work at Bellevue Hospital Center where she was exposed to some of the best inpatient psychiatric training one could receive.
While at Bellevue, Stephanie worked on the Resident Training Unit and had the unique opportunity of actively participating in the clinical training of medical students, psychiatric residents and psychiatric fellows. It was at Bellevue where Stephanie was exposed to patients, and their families, who were dealing with some of the most severe chronic mental illnesses and their consequences.
Finally in January, 2008, after experiencing various social work positions and fulfilling certain inquisitive needs, Stephanie decided that her true calling was right where she started and where she always ended her days. As an intern with virtually no experience, Stephanie described Alternatives as her "dream job" and was grateful for the opportunity. Years later as a proficient professional, with an assortment of experiences and skills, Stephanie has become co-owner of Alternatives and she continues to describe Alternatives as her "dream job."
Stephanie enjoys working with couples and is a Certified Imago Relationship Therapist.  She coaches couples into creating their ideal relationship by enhancing their communication skills and deepening their connection.
Stephanie is also trained in EMDR (Eye Movement Desensitization and Reprocessing) to work more effectively with individuals who have experienced trauma, phobias, anxiety/panic, depression, difficult life circumstances, grief and stress. Stephanie also integrates EMDR into decision-making, goal-setting and performance enhancement.